Item Details
Subjects:
Genre: Thrillers (Fiction)
ISBN:
9780316225984 (hardcover)
9780316225984
0316225983
Edition: First edition.
Description: 405, 31 pages ; 25 cm
Notes: "Introducing Detective Renée Ballard"--Jacket.
Link to PAC
Other Items In This Series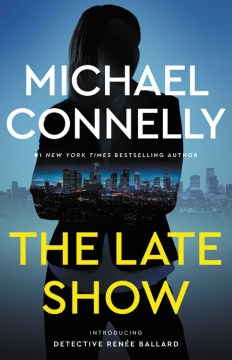 Renee Ballard works the night shift in Hollywood, beginning many investigations but finishing non…
Reader Reviews
★★★★★ The late show
By Fantum on Tue, 18 Jul 2017 19:00:22
A new Bosch is born. Det. Renee Ballard takes up where Harry left off. Nearly as gritty as Harry's cases, and the brass don't like her much either. And as in all good mysteries, we don't know who the stinky fish is until the end.
Professional Reviews
There are no professional revews for this title.
Additional Information
There is no additional information for this title.